My Study Abroad Experience in China: A Brand-New Nostalgia
by Christopher Chen
About the Author:
Christopher Chen (CWRU '20) double majored in Nutritional Biochemistry & Metabolism and Chinese on a pre-health track. While attending CWRU, Christopher applied and was selected to participate in two study abroad programs in China during Summer 2017 and 2018-2019 academic school year, respectively. Christopher is currently a student pharmacist at the University of Southern California.
I am an American-born Chinese but spoke only English at home. I started my Chinese language study at Case Western Reserve University (CWRU) at my sophomore year. After completing CHIN101 and CHIN102 at CWRU, I realized that it was not going to be enough for the pace that I wanted to learn the language at. I knew that in order to learn a new language quickly and fluently, I had to be in a total immersion environment that allowed me to have firsthand experience using Chinese in real world situations as well as studying and practicing it in the classroom. I therefore decided to apply for an eight-week summer study abroad program offered at Peking University in Beijing, China. Prior to my first study abroad experience, I visited China when I was 10 years old. I had a lot of fond memories about China then. Ten years later, I returned to China for my first study abroad experience at Peking University. This experience was both nostalgic and yet completely different at the same time. After the program, I decided that I wanted to change my pursuit of a Chinese minor into a Chinese major and went on to take CHIN301 and CHIN302 the following school year. During that school year, I came across an intriguing program – Chinese Government Scholarship Programs, which provided an American citizen the opportunity to study Chinese language in the Chinese university of their choice for a full school year, all expenses paid for. Although I was a double-major pre-health student with a full schedule of courses, I did not want to pass up on this opportunity. I felt delaying my graduation by one year would be worth it for this. This one-year experience at Beijing Language and Culture University was an experience of a lifetime that I will long remember with great appreciation and fond memories. My following senior school year was spent at CWRU where I finished up the remaining classes I needed to complete my Chinese major.
Eight-Week Peking University Summer Program
This was my first out of two China study abroad programs that I participated in while attending CWRU. I found out about this summer program from a study abroad fair hosted by the Office of Education Abroad. The tuition for this eight-week program was around 10,000 RMB. There were two courses that everyone was required to take: written Chinese language and oral Chinese language. There were also multiple levels that students could choose from based on their language level. I enrolled in the intermediate level class since I had completed CHIN101 and CHIN102 at CWRU. We had class from 8:00 am – 12:00 pm Monday through Friday. Each day after class, I would get lunch with some classmates either at the school's cafeteria, or at one of a host of restaurants off campus. In the afternoon, I would study and do homework in my dorm room. Then in the evening, I would get dinner with my Chinese friend Yang Yang. This was another good opportunity to practice my spoken Chinese. After dinner, Yang Yang and I would play table tennis at Peking University's table tennis club.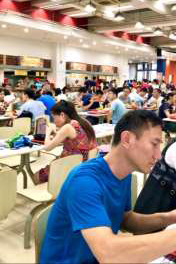 On weekends, I explored Beijing's tourist sites such as the Forbidden City and the Great Wall with either my classmates or my aunt (a Beijing resident). I also had an amazing nightlife with my classmates at the bars and clubs of Wudaokou and Sanlitun.
My class consisted of classmates from all over the world from all different countries. In fact, the number of American classmates I had was quite low compared to classmates of other countries such as Japan or Korea. This was a first for me, having classmates from all over the world, and making global connections.
My favorite teacher was from my oral Chinese language class, Zheng Laoshi. She knew almost ZERO English, so during class we were forced to speak only Chinese. Also, when she taught the course, she used a lot of body language to get the class to understand her which was a highly effective teaching technique. On the last day of class, Zheng Laoshi even treated the class to delicious Korean Barbeque and shaved ice in the neighboring Wudaokou.
The living conditions for us international students were AMAZING, as we lived in the Global Village, a hotel- like dorm specifically for international students. Everyone had their own private room with the option of a private bathroom or shared bathroom. The building was modern, the room ceilings were high and well- furnished, even including a TV.
By the end of my eight-week training, I was pretty much fluent in any basic Chinese conversation. I also learned a lot of useful and funny colloquial phrases that I never learned before in a formal classroom setting.
This experience was incredible, because not only was it nostalgic, but it was also completely different, because it was my first study abroad experience ever. I loved the experience so much that I decided to do another study abroad program.
One-Year Beijing Language and Culture University Program
This was the second out of two study abroad programs I participated in while attending CWRU. This program was under the Chinese Government Scholarship Programs, which was an all-expenses paid scholarship offered to an American citizen to study in the Chinese university of their choice for one school year. Tuition, housing, and books were covered. Additionally, participants also received a monthly stipend of 3000 RMB.
Although I had the opportunity to select Peking University again for this program, I chose a neighboring university – Beijing Language and Culture University (BLCU), and do not regret my choice one bit. The reason why I chose BLCU this time was because my Chinese teacher, Zheng Laoshi from Peking University, recommended it to me. She said that although Peking University is technically the number 1 ranked university in China, BLCU specializes in teaching Chinese language, so I would receive a better education over there. Zheng Laoshi herself was also a graduate of BLCU so I whole-heartedly took her word for it.
In this program, we had a lot more flexibility in our class choices. Aside from the comprehensive Chinese language course, we had a wide variety of elective courses that we could choose from to fulfill our minimum of 12 credit hours per semester. There were also multiple levels of difficulty of classes offered. Being that I had studied Chinese for three years prior to this program, I selected the advanced level. The courses I chose included an English-Chinese translation, oral Chinese, HSK (a standardized Chinese exam), and essay writing class.
We had classes Monday through Friday with time frames ranging from 8:30 am all the way to 5:30 pm, depending on the class. In the middle, from 12:30-2:00 pm, there were no classes and was our designated lunch break. During this time, I usually ate at the school cafeteria or at a small Hangzhou eats kitchen at the geology university across the street from BLCU. Many students also returned to their dorms to take naps during this time. In the afternoon after lunch, I would go to the Peking University gym to work out. (I still had my Peking University student ID that I kept from my last study abroad!) I would study with Yang Yang in the afternoon, have dinner at the Peking University cafeteria, and then play table tennis with him at the table tennis club there.
On weekends, I would go shopping and hang out with friends at restaurants, bars, and clubs. In addition to having fun, I also had some part time jobs to make a little bit of extra pocket money. I tutored three middle school students every Saturday and also partook in some English software recording projects.
Because this was a year-long program, there were numerous student activities outside of class. There was a string of school-organized field trips to help the students experience Chinese culture. For example, we went on field trips to Houhai and saw the siheyuan (ancient Chinese home) and we also saw the famous Chaoyang acrobatics performance. We even had a two-day trip to Datong where we saw enormous Buddhist statues. There were also student organizations that we international students could participate in. For example, I tried out for and joined BLCU's table tennis team and even got to participate in a huge table tennis competition including all the universities of the county.
The living conditions were not as good as in Peking University. The dorm that I was staying at looked like a run-down apartment from the outside. The inside was better, however. The apartment was shared with both international and Chinese students. I was the lucky few students who got a private room, but I shared a common room and bathroom with two other international students.
Since this program spanned over the entire school year, there were many holidays and breaks that happened. This was a great opportunity to travel and explore the rest of China. Over the breaks, I visited Shanghai and attended a friend's wedding party.
By the end of the year-long program, I could feel that my Chinese improved dramatically. I became fluent (I could talk about complex topics with ease) and I could even read and write at a proficient level.
This was a completely different experience than the short eight-week summer program I had at Peking University. Since I stayed in Beijing for an entire school year, I felt like I was an actual Chinese resident. I had my BLCU student certificate, and numerous Chinese accounts including a Chinese bank account, WeChat Pay (the most popular payment method in China), and TaoBao (the Amazon of China). I also had to do errands that any Chinese resident would need to do, such as go grocery shopping, get a haircut, and get clothing tailored, further enhancing the experience.
Overall, this was an experience of a lifetime and I could not have passed up on this wonderful opportunity that the Chinese Government Scholarship Programs generously offered me.
Conclusion
Many of my classmates and I had fantastic study abroad in China experiences. If you are still hesitant about studying abroad in China, I would say go for it and apply as soon as this whole COVID-19 pandemic is over!